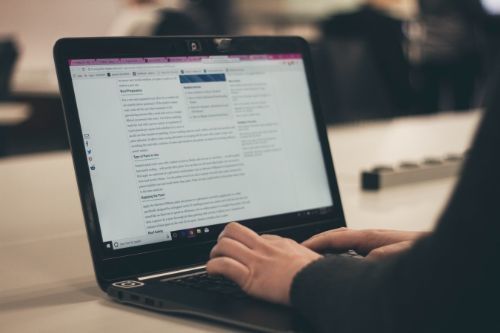 Nothing in life is easy when you try to do it alone. Luckily, it's okay to ask for help. When it comes to maintaining your business's blog, it's a great idea to have some help to keep your content fresh and add new perspectives. Guest bloggers can help provide views you might not find from within your own business. Plus, establishing relationships and networking is a great idea for a multitude of reasons, including future partnerships and business opportunities. Check out these five tips to using guest bloggers for your content. 
1. Identify Industry Leaders
Start by asking yourself—who do you admire in my industry? Chances are that they're willing to impart some of their knowledge for your audience. Don't be afraid to reach out and let them know you admire their views, and that you would love for them to write a guest spot for your blog. Just ensure you set realistic expectations as far as word count and timeline to get the job done. The more transparent you are, the better the relationship will be for the future.
 
2. Create a Submission Form
If guest blogging is going to become a regular event for your business, consider adding a form to your website to capture submissions or suggestions. This will help identify guest bloggers that you may have never considered before. Who knows—you could have somebody frequenting your business's site that is an expert in your field that you've never even heard of. Make the submission form easy to fill out, gathering minimal details so that it isn't a hassle to make the first connection. Once you have their contact info and intent to write, reach out and see if you can set up a call to talk it over.
3. Find Freelancers
You don't need full-time dedicated guest bloggers to make your content a success. Instead, there are plenty of freelance writers that would be willing to contribute not just content, but quality content. Consider putting a call out for freelancers on your next webinar, social post or email marketing piece. You could also list your needs on a freelancing site. If you're looking for an occasional piece of content here or there, freelancers are the way to go. 
4. Offer Benefits for Guest Bloggers
It's not always about the money when it comes to guest blogging. Sometimes, you can offer something that money won't buy—like exposure. If you've taken the right steps to build your following, experts in your industry will want a chance to get in front of your audience. If you aren't in a position to pay your bloggers, consider talking about the opportunities of exposure with your potential writers.
5. Pay Bloggers 
Sometimes it just comes down to the cash. If the guest blogger is somebody you think will provide valuable insight or return from your investment on their writing, and you are able, pay them! After all, the industry leader would be giving you their time and expertise. Make sure your terms are outlined up-front, and consider adding that the expert also shares the finished product with their social followers for cross-promotion.
Having a guest blogger will help keep your content fresh while also taking some of the pressure off of your business to write every single week. Consider what you have to offer your guest bloggers and go from there. You may want to outline potential topics, but make sure you leave enough room for the guest to let their creativity shine. Then, when the time comes, get ready to cross-promote as much as possible.